Additional Documentation Request Review Results

Background

Currently RCs send Additional Documentation Request (ADR) letters to healthcare providers. The providers then respond to the RCs with the related documentation using mail, fax, or electronic submission (via their respective HIHs). The RC reviews the documentation and sends the result of the review via mail. To make the process more efficient, a new esMD pilot has been started to allow sending ADR review results electronically.
The ADR review results pilot's goal is for HIHs to be able to receive electronic responses from RCs, only for those ADR responses that were sent via esMD. The decision date and the review result indicator are part of the results being sent (Reject, Deny or Approve). The ADR review results contains reason codes and statements that provide more specificity and clarity in case of a 'reject' or 'deny' result.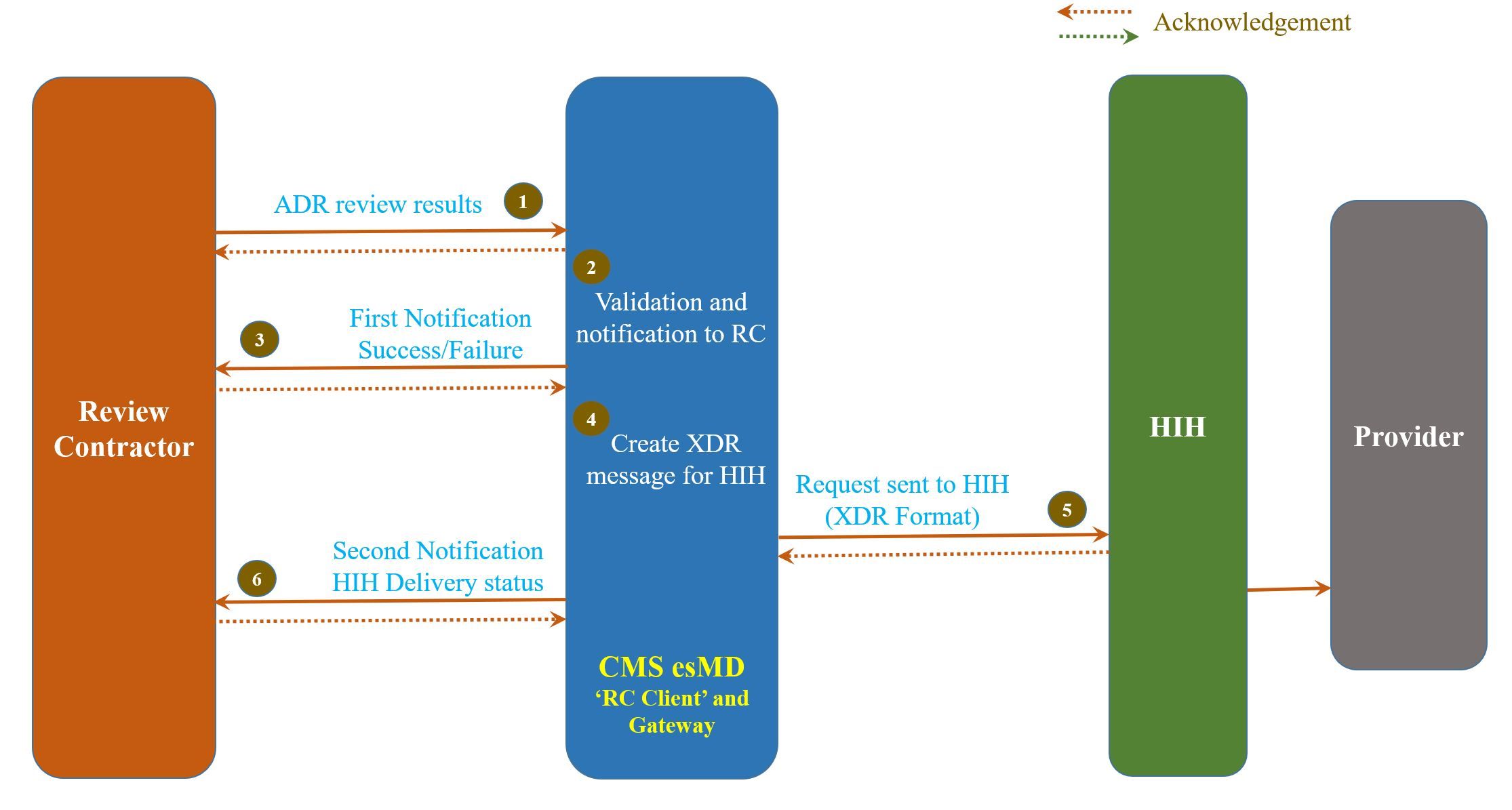 Technical details

Step 1 – RC creates and sends ADR review results (intended for provider). The result is in the form of a XML file and contains indicator of result of review and, in the case of reject or deny, reason codes and statements.
Step 2 – The esMD system validates the ADR review result.
Step 3 – The esMD system sends a success/failure message back to RC indicating whether esMD system received the document.
Step 4 – The esMD system creates the XDR message using the XML file.
Step 5 – The esMD system sends the XDR message to the HIH who in turn sends it to the provider.

What should an HIH do to participate in the ADR review results pilot?
Step 1 - Gain the capability to decipher the message from the RC with ADR review result.
Step 2 - Align with the provider on how the message will be delivered to the provider.

Step 3 - Communicate with esMD support at esMDBusinessOwners@cms.hhs.gov to determine a UAT plan and subsequently plan the quarterly release in which to go live.

Step 4 - Complete testing and go live.