Electronic Medical Documentation Request

The Electronic Medical Documentation Request (eMDR) pilot has been started by the esMD program to enable sending ADRs in an electronic format to Medical providers. eMDRs contain Protected Health Information (PHI). Therefore, providers who wish to receive eMDRs need to provide their destination information to the RCs and also give consent to the RCs that they want to receive PHI electronically. This is accomplished through a registry maintained by the RCs which
supports provider identity proofing,

stores provider consent to receive eMDR, and

stores the destination end-point information (respective HIH) where they would like to receive their eMDR.
Each participating Provider and their corresponding HIH needs to register with the RC and ensure HIPAA compliance agreements are in place. Before sending out each document, the RC will need to look up this registry to confirm that the provider in question is the correct one, the provider has consented to receiving eMDR, and get the correct destination information of the corresponding HIH.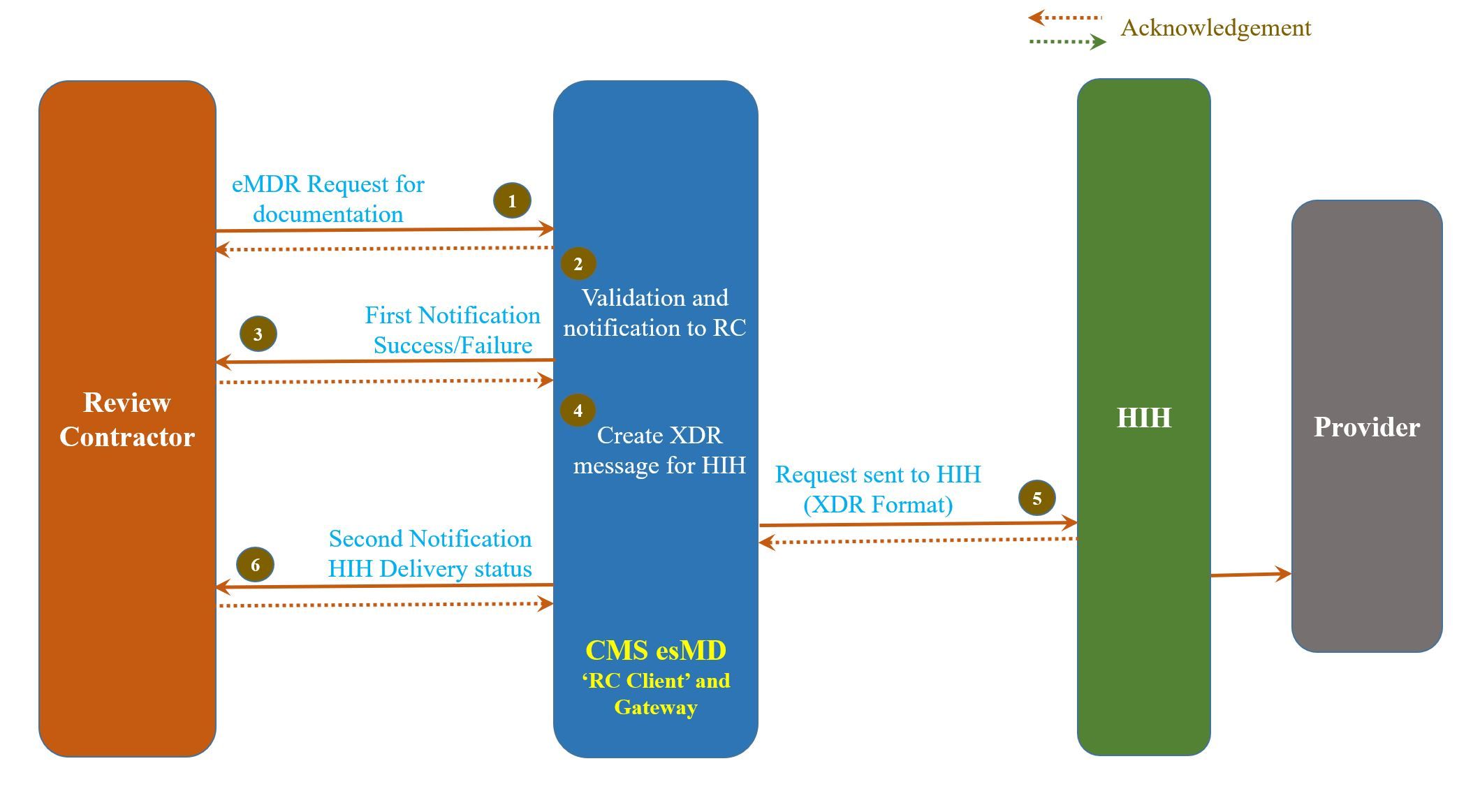 Technical details


Step 1 – RC creates and sends request for eMDR (intended for provider). This request is in the form of a XML file and the corresponding pdf file.
Step 2 – The esMD system validates the eMDR request.
Step 3 – The esMD system sends a success/failure message back to RC indicating whether the esMD system received the document.
Step 4 – The esMD system creates the XDR message using the XML and pdf files.
Step 5 – The esMD system sends the XDR message to the HIH who in turn sends it to the provider.

What should an HI do to participate in eMDR


Step 1 - Ensure interested providers register in the RC registry with confirmation on provider's consent to receive eMDR and information on destination end-point (HIH).
Step 2 - Gain capability to receive the message with eMDR included to be sent to the provider (link to document with schema and sample XML).
Step 3 - Communicate with esMD support @ esMDBusinessOwners@cms.hhs.gov to determine UAT plan and subsequently plan the quarterly release in which to go live.
Step 4 - Complete testing and go live.